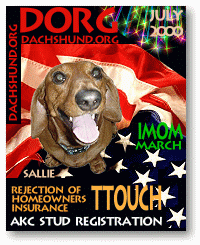 Welcome to DORG!
Our cover girl this month is "Sallie" owned by Chad Elkins of Atlanta, Georgia.

DORG, The Dachshund Magazine On-Line! wants this to be an educational and interactive site with an abundance of information for all dog and Dachsie lovers. We are please that it continues to grow and want to thank every one that has contributed or donated time to make this as successful an on-line magazine as possible.

In This Issue
Have you tried to apply for homeowners insurance lately, only to find that you are turned down because of your dog? Many insurance companies are rejecting homeowners from being able to get a policy because they have certain breeds. Read AKC's account of this loss of rights.

Learn about the Tellington Touch, a hands on massage motion that calms, soothes and heals through the magic of your finger manipulation.

With this new Board policy, DNA will be used to register litters produced by more than one sire, provided that the parentage of each offspring can be determined. Read the report by AKC.

IMOM will participate in a peaceful demonstration on the grounds of the Upper
Senate Park in Washington, DC on July 2, 2000 from 11:00 to 2:00. This "Voices for the Voiceless" demonstration is being planned to bring public awareness to the horrors of puppy mills and to the many animals who are suffering as a direct result of man's ignorance, greed and total lack of compassion for animals. Read more about how IMOM helps those animals that need it.

Update: The hearing of the story on a Dachshund owner whose dogs were taken from her because her neighbor complained has been held. DORG will update you on the verdict.

Please adopt or rescue when you can. Don't forget to check the adoption and rescue pages, frequently since more information gets added daily.
| | |
| --- | --- |
| What's New in the Gift Shop! | |
| | |
Remember, DORG is growing and is always looking for good material to use. Want to contribute information? See the contributing section to find out what DORG is looking for.
Don't forget to check out the interactive calendar. You can post your events and let everyone know what's coming up. Plus, we have a Dachshund forum that everyone can post their questions to as well as an adoption, rescue and lost board. All boards are monitored and no posting of dogs for sale will be allowed.
Of course, DORG is going to have shopping! Visit the shops and see what there is in dachshund antiques and collectibles. The gift shop will have new items and be open soon.
Interested in being on the cover? See our advertising page for details. How about being featured in our gallery. Each month we'll have a selection of dogs that we'll choose from to show how much these little guys are adored. To submit your dogs picture, click here for more details.
--DORG

Want to translate this site? Use this translator.