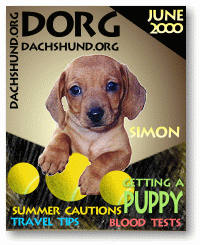 Welcome to DORG!

DORG, The Dachshund Magazine On-Line! wants this to be an educational and interactive site with an abundance of information for all dog and Dachsie lovers. We are please that it continues to grow and want to thank every one that has contributed or donated time to make this as successful an on-line magazine as possible.

In This Issue
Sping and summer finds many puppies available. If you just got one, or are looking for one, here are some guidelines and some links to other sites that will help with training and understanding the puppy mentality. Along with guidlines is a test to determine your puppies temperament that you can perform. The cute puppy on the cover is "Simon" owned by Lisa Black of Pelzer, SC.

Have you ever wondered what your vet means when it's suggested you have a CBC done? CBC stands for Complete Blood Count. Here is an explanation of what it all means. Visit the health section for added articles on health related issues.

Summer can be fun, but, use common sense when it comes to your animals when the heat begins to rise. Summer care tips.

Traveling with your dog? Here are some suggestions, places that allow pets, maps to make and pet transport companies.

Don't forget to check the adoption and rescue pages, more information gets added daily.

Remenber, DORG is growing and is always looking for good material to use. Want to contribute information? See the contributing section to find out what DORG is looking for.

Don't forget to check out the interactive calendar. You can post your events and let everyone know what's coming up. Plus, we have a Dachshund forum that eveyone can post their questions to as well as an adoption, rescue and lost board. All boards are monitored and no posting of dogs for sale will be allowed.

Of course, DORG is going to have shopping! Visit the shops and see what there is in dachshund antiques and collectibles. The gift shop will have new items and be open soon.

Interested in being on the cover? See our advertising page for details. How about being featured in our gallery. Each month we'll have a selection of dogs that we'll choose from to show how much these little guys are adored. To submit your dogs picture, click here for more details.

--DORG

Our cover photo is Camelot's My Special Little Man fromCamelot Dachshunds. Read Manny's tribute here.

Want to translate this page and the rest of the site? Use this translater.