About Us...

G lenda Stephenson began her dog show career as a junior handler in 1968. Living in Anchorage, AK, dog showing was an enjoyable family event. Traveling all over the state with her Pembroke Welsh Corgi, exhibiting in Junior Showmanship, Obedience and Conformation was an adventure. Returning to Florida, Glenda continued showing dogs and assisting handlers with various breeds.

As one of the original members of Space Coast Kennel Club of Palm Bay, Glenda was seated as an officer for many years, past club training instructor, show chairperson and is currently the President and Delegate of the Club.
Acquiring her first Australian Shepherd in 1985, Glenda found that this breed was the breed for her, thus the beginning Sunswept Kennels. Whether trialing the dogs on stock, obedience or conformation, or just tagging along at the horse shows, these dogs fell into place.
In 1994, Mrs. Stephenson was asked to handle a Beagle, which later became part of her family. Campaigning the Beagle, along with the Aussies was enjoyable. Siring the first litter of Sunswept Beagles, Glenda finished the first group of homebred Beagle Champions.
Glenda has been an owner handler of several other breeds including: Cardigan Welsh Corgi, Pembroke Welsh Corgi, Tibetan Terrier, and Swedish Vallhunds. She is currently approved as an ASCA Senior Breeder Judge, as well as an AKC Australian Shepherd, Beagle, and All-Breed Junior Showmanship judge.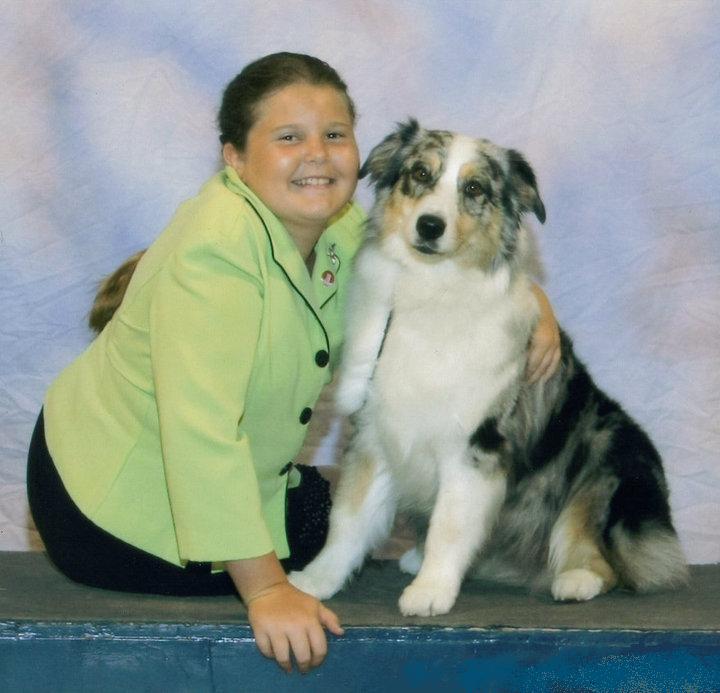 The apple of Jack and Glenda's eye is their daughter, Jaclyn. Of course, Jaclyn, began her show career at the ripe age of 15 months at the 2000 ASCA Nationals in Georgia.
Continuing with handling in the ASCA Pee Wee and Sub Junior division, Jaclyn had discovered the wide world of dog shows. Our Old Gal, Molly, grand mothered her around the ring, keeping her in tow. Molly was the best babysitter, patient friend, and guardian. With the next litter, Jaclyn found a new pal, and she called her Blossom.
Working and practicing with her pal, Jaclyn has gone on to finish both ASCA and AKC conformation Championships on Blossom. This was even before she was able to handle in AKC Junior Showmanship classes ! Take a peek at Jaclyn's page, you'll enjoy the photos of the beginning of her show career.
By finishing Blossom's championships from the Bred-by Exhibitor classes, Jaclyn is honored to be able to compete at the Eukanuba Invitational in the Bred By Exhibitor division. 2011 is her year to shine at the Invitational!
Both Mom and daughter are trying their hand in the agility arena. So be looking for them in a ring near you !
The Stephenson Family are working members of: Space Coast Kennel Club of Palm Bay, Central Florida Kennel Club, ASCA, and the Sunshine State Herding Group Association, and proud participants in the AKC Breeders of Merit Program.