A Look at the Past
Interesting events and accomplishments relating to the Dachshund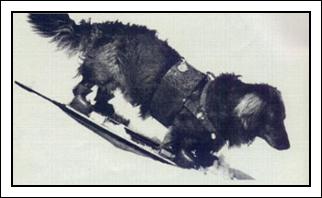 Picture is from 1975 article 1981
By Ann Sullivan of The Oregonian staff
Schmaltz, the skiing dachshund of the Harding family of Portland, died of old age Wednesday at his home, his owner, Imogene "Jimmye" Harding, said Thursday.
The dog was 15 and had won fame in the United States, Canada and Europe for his skiing techniques and many appearances in which he was outfitted with four specially designed boots and two skis.
Schmatz's training began about age 1 1/2 and involved the entire family, Mrs. Harding said. That included her husband, Dr. H. Clagett Harding, who died in 1979, and her daughter Margot Hilary Harding, who died July 12. Two sons, Mark and Michael, also participated in the dog's early training.
The dog enjoyed the skiing and the attention. He became a popular attraction at ski meets and on television shows such as "Real People" and "To Tell the Truth." He was made an honorary member of the SAS Ski Fraternity in Sweden during a visit there.
Harding and his daughter took Schmalz to Sun Valley, Lake Tahoe and other ski resorts, and made him subject of a book on skiing safety, "Track Right With Schmalz." He appeared in skiing movies and had his own bank account.
The dog changed the Harding family's lives, Mrs. Harding said, from the moment he came into their lives. "I just had new white carpeting, ad it changed our lives, all right."
Schmalz learned to ski at the Harding mountain cabin east of Sandy and will be buried there, Mrs. Harding said.

---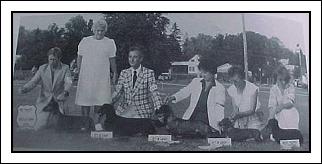 A most unusual event took place July 22, 1984 at the Kars Community Recreation Association Dog Show. The ECDC held a booster there (Ottawa Ontario Canada area) - that is a "supported entry" and there were 27 Dachshunds participating in all 6 breeds. The judge was Mrs. Doris Wilson who created an unique situation by selecting all four group placings from the Dachshunds and then put another Dachshund puppy up as Best Puppy In Group.
Left to right: Judge: Doris Wilson
Group 1: American & Canadian Ch. Braaehaus Traveling Man (SS) Group 2: American & Canadian Ch. Blackgammon Tecknique (SLH) Group 3: Canadian Ch. Grinzing's Friedrich W (SW) Group 4: Canadian Champion Peshawar Girl From Ipanima (MS) Best Puppy In Group Pawprints v Dachendells Rogue (MLH)