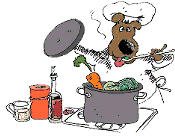 Rice and Meat Dinner This is an everyday meal.

Ingredients

1/2 cup to 1 cup Meat of choice*
*choose one: hamburger, ground pork (cook all the way through), ground chicken, ground turkey, or liver
4 cups rice
1 cup vegetables*
*choose one or more of these: sweet potato, regular potato, green beans, carrots, spinach
1 tablespoon vegetable oil
2 cloves garlic


Boil all ingredients together in a large pot. Be sure that pork is cooked all the way through. Cool food off and serve.


For Variety: Noodles and Meat

Same ingredients as Rice and Meat Dinner, except for this:
Boil 1 pound noodles separately. Mix noodles in with meat and vegetable mixture when ready to serve. Italian and Chinese noodles will both work.



"Morning Breakfast"

2 cups oatmeal
4 eggs


Cook oatmeal according to instructions. Add raw eggs to hot oatmeal. Stir. Cool down and serve.



For even more variety:


Try to substitute mackerel (a fish) for meat in some meals. I usually buy the canned stuff which has little bones in it. They can eat these bones. A little of the canned stuff goes a long way tho--it has a lot of salt!