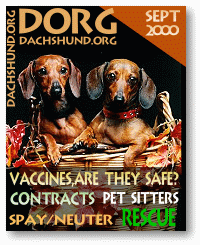 Welcome to DORG!
Our cover dogs this month are "Deutschy and Belle" who live with Dave in Tujunga California. Who could ask for more "fall like" colors than two reds in a basket of fall leaves. They were chosen from our gallery submittals. You never know where "cover dogs" get discovered.

DORG, The Dachshund Magazine On-Line! wants this to be an educational and interactive site with an abundance of information for all dog and Dachsie lovers. We are please that it continues to grow and want to thank every one that has contributed or donated time to make this as successful an on-line magazine as possible.


Vaccines, controversial and questionable. Read an article that was in the current issue of Dog Fancy Magazine and also in the USA Weekend issue of Parade.
A way to protect yourself when breeding dogs is to have contracts. Here are a few that will help you devise your own. These contracts are from the showdogsupersite and offer some very good contracts for ideas.
You're going on vacation, but, can't take your pet. Who do you depend on? Hopefully a responsible pet sitter. Read some pointers on pet sitters written by our guest writer, Michelle Wray from Coast to Coast Dachshund Rescue.
Michelle has also compiled a very good review and discussion on spaying and neutering your pet. Be responsible and only breed those dogs who have gained their championship and are excellent representatives of the breed. You'll have a happier and healthier pet after neutering. See a spay and neuter via images to understand the procedure. *Caution is advised if you do not like to see actual surgical pictures*
Rescue - Consider your next pet a rescue. Rescue offers a multitude of dogs who need loving homes and a tremendous number of dedicated people helping dogs in need. Many dogs are from owner turn ins, puppy mills and abandonment. Any rescuer will tell you the amount of love they give back is ten fold and it gives them a second chance at happiness.

Our Product review for the month is Dachshund Delights Hug-a-Dox. It gets a "thumbs up" from the DORG family of dogs. Read the review.
Please adopt or rescue when you can. Don't forget to check the adoption and rescue pages, frequently since more information gets added daily.
| | |
| --- | --- |
| What's New in the Gift Shop! | |
| | |
Remember, DORG is growing and is always looking for good material to use. Want to contribute information? See the contributing section to find out what DORG is looking for.
Don't forget to check out the interactive calendar. You can post your events and let everyone know what's coming up. Plus, we have a Dachshund forum that everyone can post their questions to as well as an adoption, rescue and lost board. All boards are monitored and no posting of dogs for sale will be allowed.
Of course, DORG is going to have shopping! Visit the shops and see what there is in dachshund antiques and collectibles. The gift shop will have new items and be open soon.
Interested in being on the cover? See our advertisingpage for details. How about being featured in our gallery. Each month we'll have a selection of dogs that we'll choose from to show how much these little guys are adored. To submit your dogs picture, click here for more details.
--DORG

Want to translate this site? Use this translator.