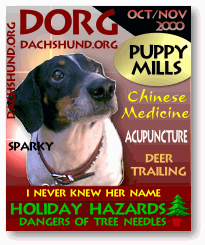 Welcome to DORG!

Meet DORG's mascot, Sparky. He is this month's cover dog to represent the article on puppy mills.

Sparky is a 5-1/2 year old black and tan pied who is an oversized mini (tweenie) and an ex stud dog that was rescued from a puppy mill. Sparky has PRA, is totally blind, suffers from chronic interdigital cyst formation and is hypothyroid. Other than the color, these are all genetic problems that he has possibly passed on to all of his offspring in the 5 years he was used for stud at a licensed commercial breeding facility.

Sparky represents many puppy mill dogs in the sense that these people do not care about the genetic health nightmares that they produce. Their desire for the dollar overrides any care for producing genetically sound and healthy dogs. Sparky is a doll, loves absolutely anyone and lives by the motto, "everyday is a tail waggin' good day." He is a lucky dog though. He didn't suffer any mental trauma that often happens, but, for the lack of health care for so many years, his body has had to endure more than it should have and and he must receive constant medical attention as a result.

This will be October and November's issue and a very important one. The main articles are on puppy mills and have been written by two experienced rescuers. Once again, Michelle Wray of Coast to Coast Dachshund Rescue, has written one of the articles for DORG going into detail with an overall explanation and information on the commercial dog industry titled "What is a Puppy Mill." The other article is not for those who cannot deal with the reality of what can and does go on at a mill. This article was written by another dedicated person in rescue who is devoted to working in the legal end of animal issues and works very closely with rescue. Please be forewarned when reading "I never knew her name" that it is graphic and disturbing emotionally. It is a true story. We, at DORG, felt that the truism of this account needs to be public so that it brings to light the seriousness of establishing and demanding better conditions for all dogs who must endure the life of breeding in commercial dog breeding facilities.

DORG, The Dachshund Magazine On-Line! wants this to be an educational and interactive site with an abundance of information for all dog and Dachsie lovers. We are please that it continues to grow and want to thank every one that has contributed or donated time to make this as successful an on-line magazine as possible.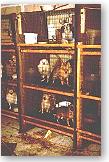 Puppy mills. It says it all. Here are some articles that explain a commercial breeding facility, a true story of an Australian Shepherd purchased from one and links to more information on mills. Click here to view images of puppy mills.
Chinese Medicine has been around for centuries. Read how and why it works with the body and and how it is an alternative to conventional medicine. Acupuncture is used in conjunction and has been proven to enhance other medical treatments as well as be a very important healing aid in it's own right.


Guess which breed of dog was the inspiration for developing Deer Search, an organization devoted to tracking dogs trained to search out deer that have been wounded during hunting season? The Dachshund.
Holidays bring many many joys, but, it can also bring hazards. Here are two articles with links on holiday hazards, one from PetEducation and the other from Pet Planet on how dangerous Christmas trees can be to your pet.

Remember, Halloween and Christmas brings a lot of candy into the house. Chocolate is very toxic to your dog, so, please monitor the "stash" carefully and make sure it isn't in reach of a a determined Dachshund!

---

Rescue - Consider your next pet a rescue. Rescue offers a multitude of dogs who need loving homes and a tremendous number of dedicated people helping dogs in need. Many dogs are from owner turn ins, puppy mills and abandonment. Any rescuer will tell you the amount of love they give back is ten fold and it gives them a second chance at happiness.

Our Product review for the month is Dachshund Delights Hug-a-Dox. It gets a "thumbs up" from the DORG family of dogs. Read the review.
Please adopt or rescue when you can. Don't forget to check the adoption and rescue pages, frequently since more information gets added daily.
| | |
| --- | --- |
| What's New in the Gift Shop! | |
| | |
Remember, DORG is growing and is always looking for good material to use. Want to contribute information? See the contributing section to find out what DORG is looking for.
Don't forget to check out the interactive calendar. You can post your events and let everyone know what's coming up. Plus, we have a Dachshund forum that everyone can post their questions to as well as an adoption, rescue and lost board. All boards are monitored and no posting of dogs for sale will be allowed.
Of course, DORG is going to have shopping! Visit the shops and see what there is in dachshund antiques and collectibles. The gift shop will have new items and be open soon.
Interested in being on the cover? See our advertisingpage for details. How about being featured in our gallery. Each month we'll have a selection of dogs that we'll choose from to show how much these little guys are adored. To submit your dogs picture, click here for more details.
--DORG

Want to translate this site? Use this translator.