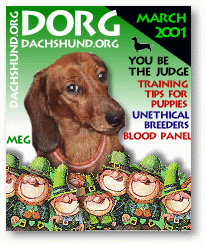 Welcome to DORG!

This month's cover dog is "Sniff" who is owned by Raymond Bråten of Norway.
Our feature articles this month touch on a number of subjects from you playing the role of a judge and seeing whether you can pick out the winner to understanding what those tests are that are included in a full blood panel. Dr. P's pages for dog training have so much useful information for puppy rearing, your pup will be an adult before you finish checking everything out. And, with Spring around the corner and puppies on their way, make sure you recognize an unethical breeder and know the signs to stay away!
Visit DORG's shopping boutique now and see what's new.


Crufts, England's most prestigious dog show which was scheduled for March 8-11th has been postponed due to foot and mouth disease.
Read more on the Crufts site.
If you'd like to order a Westminster catalog marked with the winners, you may do so for $25.00 by clicking here.
---

Rescue - Consider your next pet a rescue. Rescue offers a multitude of dogs who need loving homes and a tremendous number of dedicated people helping dogs in need. Many dogs are from owner turn ins, puppy mills and abandonment. Any rescuer will tell you the amount of love they give back is ten fold and it gives them a second chance at happiness.

Our Product review for the month is the glucosamine product Agility distributed by Healthy Pet Net. It gets a "thumbs up" from the DORG family of dogs. Read the review.
Please adopt or rescue when you can. Don't forget to check the adoption and rescue pages, frequently since more information gets added daily.

---

DORG, The Dachshund Magazine On-Line! wants this to be an educational and interactive site with an abundance of information for all dog and Dachsie lovers. We are please that it continues to grow and want to thank every one that has contributed or donated time to make this as successful an on-line magazine as possible.

---
| | |
| --- | --- |
| What's New in the Gift Shop! | |
| | |
Remember, DORG is growing and is always looking for good material to use. Want to contribute information? See the contributing section to find out what DORG is looking for.
Don't forget to check out the interactive calendar. You can post your events and let everyone know what's coming up. Plus, we have a Dachshund forum that everyone can post their questions to as well as an adoption, rescue and lost board. All boards are monitored and no posting of dogs for sale will be allowed.
Of course, DORG is going to have shopping! Visit the shops and see what there is in dachshund antiques and collectibles. The gift shop will have new items and be open soon.
Interested in being on the cover? See our advertisingpage for details. How about being featured in our gallery. Each month we'll have a selection of dogs that we'll choose from to show how much these little guys are adored. To submit your dogs picture, click here for more details.
--DORG

Want to translate this site? Use this translator.