Welcome to DORG!

We're running the December issue for most of January, so look for February's issue to appear soon.

This month's cover dog is Freckles who is lovingly owned by Claudia and Larry and lives in California. Her picture on the cover is when she was just a pup, but, now she is a lovely lady who is a little over a year old. The cover is dedicated to her and all the Dachshunds everywhere. The power of the Internet has been able to bring the world a little closer and find new friends and "relatives." Freckles is special to DORG because when Claudia saw Sparky's cover photos, she saw a resemblence to him and to her dog Freckles. Through some investigation we found that they are indeed related and are actually cousins. But, the story is bittersweet, yet with a very happy ending. Read this true Holiday Story and and see how a family of dogs have found one another and why this story that started off sad now has a happing ending.

DORG Holiday Card
Click the card to view.
This issue is a light holiday issue. We are very busy at DORG getting ready for next year but wish all of you a very safe holiday season. We're including a link for holiday hazards again. It's not always a puppy who tests the seasonal goodies. Tinsel, gifts, string, ribbon, chocolate, electrical wires, pointsettias and potpourri can be very dangerous if ingested. And, please! Do not put ribbons around your dogs neck. They can swallow the long ends or get their bottom jaw locked open trying to get it off. If you must put a bow on, attach it securly to the collar with no dangling parts.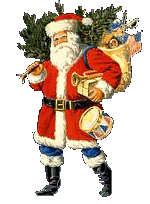 Read the story of Santa. This is a nice story that was written by Bryan Griffin. This is his rendition of how the traditional gift giving and red suit that Nicholas wore evolved. It shows how tradition develops and forever remains a part of our lifestyle.

Ever wonder what colors and patterns Dachshunds come in? Click here for the explanation of colors and patterns as well as a page showing many examples of the colors and the patterns.

Remember, Christmas brings a lot of candy into the house. Chocolate is very toxic to your dog, so, please monitor the "stash" carefully and make sure it isn't in reach of a a determined Dachshund!

---

Rescue - Consider your next pet a rescue. Rescue offers a multitude of dogs who need loving homes and a tremendous number of dedicated people helping dogs in need. Many dogs are from owner turn ins, puppy mills and abandonment. Any rescuer will tell you the amount of love they give back is ten fold and it gives them a second chance at happiness.

Our Product review for the month is Dachshund Delights Hug-a-Dox. It gets a "thumbs up" from the DORG family of dogs. Read the review.
Please adopt or rescue when you can. Don't forget to check the adoption and rescue pages, frequently since more information gets added daily.

---

DORG, The Dachshund Magazine On-Line! wants this to be an educational and interactive site with an abundance of information for all dog and Dachsie lovers. We are please that it continues to grow and want to thank every one that has contributed or donated time to make this as successful an on-line magazine as possible.

---
| | |
| --- | --- |
| What's New in the Gift Shop! | |
| | |
Remember, DORG is growing and is always looking for good material to use. Want to contribute information? See the contributing section to find out what DORG is looking for.
Don't forget to check out the interactive calendar. You can post your events and let everyone know what's coming up. Plus, we have a Dachshund forum that everyone can post their questions to as well as an adoption, rescue and lost board. All boards are monitored and no posting of dogs for sale will be allowed.
Of course, DORG is going to have shopping! Visit the shops and see what there is in dachshund antiques and collectibles. The gift shop will have new items and be open soon.
Interested in being on the cover? See our advertisingpage for details. How about being featured in our gallery. Each month we'll have a selection of dogs that we'll choose from to show how much these little guys are adored. To submit your dogs picture, click here for more details.
--DORG

Want to translate this site? Use this translator.