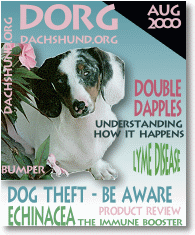 Welcome to DORG!
Our cover guy this month is "Bumper" owned by Michelle Wray of Louiseville, Kentucky. Read about Bumper who is a rescue from a puppy mill. Bumper also represents poor breeding practices where the double dapple gene gets mixed with the pied gene, causing Bumper to be blind with underdeveloped eyes.

DORG, The Dachshund Magazine On-Line! wants this to be an educational and interactive site with an abundance of information for all dog and Dachsie lovers. We are please that it continues to grow and want to thank every one that has contributed or donated time to make this as successful an on-line magazine as possible.


Double Dapples are a controversial subject matter. Read how one person is able to explain how the double dapple gene affects a dog and the role it plays in genetics. Responsible dapple breeding is fine, but, one must be very cautious about the dapple gene hiding and purposly being bred with another dapple gene to produce "wild" "excotic" or "rare" colors as they are described.

Lyme Disease is something that anyone who lives where there are deer and ticks need to be aware, not only for themselves, but, for their dogs as well.

The world has changed, and sadly we need to be aware of where our pets are at all times. Dog theft is a very real issue and instead of being complacent, read about the frightening possibilites that can happen when youre dogs are not supervised or locked behind closed fences.

Herb Review - Echinacea - the immune booster. Natural additives can really do a lot for the dogs and benefit them in many ways.

Our Product review for the month is Dachshund Delights Hug-a-Dox. It gets a "thumbs up" from the DORG family of dogs. Read the review.
Please adopt or rescue when you can. Don't forget to check the adoption and rescue pages, frequently since more information gets added daily.
| | |
| --- | --- |
| What's New in the Gift Shop! | |
| | |
Remember, DORG is growing and is always looking for good material to use. Want to contribute information? See the contributing section to find out what DORG is looking for.
Don't forget to check out the interactive calendar. You can post your events and let everyone know what's coming up. Plus, we have a Dachshund forum that everyone can post their questions to as well as an adoption, rescue and lost board. All boards are monitored and no posting of dogs for sale will be allowed.
Of course, DORG is going to have shopping! Visit the shops and see what there is in dachshund antiques and collectibles. The gift shop will have new items and be open soon.
Interested in being on the cover? See our advertisingpage for details. How about being featured in our gallery. Each month we'll have a selection of dogs that we'll choose from to show how much these little guys are adored. To submit your dogs picture, click here for more details.
--DORG

Want to translate this site? Use this translator.