Blackloch Standard Smooth Dachshunds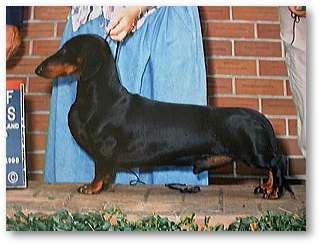 Am. Can. Ch. Timbar's Anything Goes
Sire: Am. Can. Ch. Barkerville Vesuvius
Dam: Am. Can. Ch. Timbar's Moody Blue's O'Woldorf
Breeder: Janet Wayock and Steve Wolden
Chevy excels in type and elegance, with extraordinary ribbing and keel, level topline, substantial bone and a classically beautiful headpiece.
Stud service to approved bitches only. Proven sire of Champion get.
Owner:
Cherri Thomson
It is with tremendous sadness that we have lost a true dog lover and protector of the dachshund breed July 19, 2002. Cherri's devotion to the standard and true dachshund will live in her legacy of breeding and fabulous dogs she has bred, but, her sincerity and love for promoting the breed and educating those who wished to know more will be sorely missed. Cherri was what all people should represent. We will miss you my friend.
Blackloch Standard Smooth Dachshunds